Today, Fairphone, a company known for making smartphones that are meant to last, revealed its take on a user repair-friendly set of wireless, over-the-ear headphones. Like its smartphones, Fairphone's Fairbuds XL have a modular design with Fairphone promising easy spare parts access. However, Fairphone's currently unsure how long it will have parts for the cans in stock. And Fairphone is pulling back from its typical five-year warranty for phones, opting for two years, due to uncertainty around real-world longevity.
Modular parts for the Fairbuds XL, which in true Fairphone fashion won't be sold in the US, include a headband cover that pops off to reveal the actual band, a cable connecting the speakers, and left and right speaker modules that allow users to replace a failed driver or wonky buttons.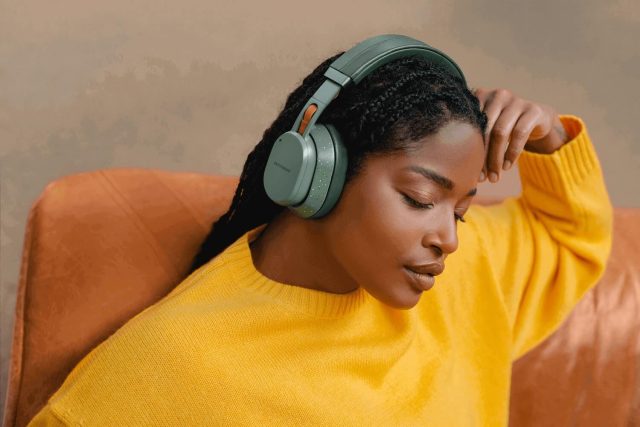 As of this writing, the 11 modular parts aren't listed for sale, but The Verge reported a replacement battery will cost 19.95 euro, while ear cushions will cost 14.95 euro, and the three headband parts will be 19.95 euro for each. Most of the headset's electronics components, like the Bluetooth 5.1 module, reside in the left and right speaker parts, but Fairphone may start selling spare printed circuit boards, buttons, and microphones if demand warrants, The Verge said.
Other headsets have offered replacement ear cushions and head straps before. However, the Fairbuds XL go further by enabling the entire frame of the headband to be swapped easily and encouraging battery replacements. There are wireless headsets with batteries you could manage to replace yourself, but doing so with the Fairbuds XL won't void the warranty.
Further, Fairbuds XL batteries are supposed to be easy to get through Fairphone, which will also sell Fairbuds XL modules through the Fairbuds App available on Play Store and App Store. A big sticking point for user repairability advocates is making spare parts accessible and affordable. Fairphone will also work with customers to provide support or contact with a repair partner if they don't want to perform repairs themselves and accept customers' unwanted components for reuse or recycling, according to The Verge.
Testing the waters
As people cut the cord on their gadgets, dying batteries become an inevitable part of the device's life cycle. And if the repair process is too difficult or risky, an otherwise functioning device could meet its end. It's a big problem for products like the AirPods Pro, despite people figuring out solutions to the problem for as cheap as $38. Many companies will offer users a new, discounted headset before trying to replace an otherwise functioning headphone's batteries.
Meanwhile, over-the-ear headsets like the AirPods Max have lost repairability points for having a wild number of screws, including pentalobe ones, and adhesives. The Fairbuds XL come apart by undoing plastic tabs, opening metal fasteners, and working with a handful of Philips head screws, per The Verge.
Fairbuds XL's ultimate repairability depends on how accessible its modules remain over time. Fairphone co-founder Miquel Ballester told The Verge that Fairphone doesn't have a "public target" for maintaining spare parts stock because it has "no historical information about this category." And the gadget's shorter two-year warranty is due to "uncertainties attached to shipping a device in a new category and specifically needing to see how the headphones stand up to real world daily use/abuse," per TechCrunch. Although, as the publication pointed out, the Bluetooth headphones could work with a USB-C cable (sold separately) should Fairphone stop selling batteries.
Still, the Fairbuds XL are a step in the right direction, especially compared to Fairphone's last audio accessory. Fairphone eventually gave up on making its True Wireless Earbuds, which also have a two-year warranty, user-repairable. When speaking with The Verge, Ballester suggested the dream still lives. But even making the wireless headset modular had unique challenges that Fairphone didn't encounter making its smartphones since headphones "are very mechanical," per Ballester.
Meanwhile, Fairphone isn't touting superior audio capabilities here. Ballester told TechCrunch audio quality is as expected for a headset in its price range. The cans have 40mm dynamic drivers with a frequency response of 20-20,000 Hz, and its app enables EQ adjustments. Those interested should do a deep dive into reviews, but some so far are not impressed with the sound quality.
Fairphone's headphones are going for 249 euro.