If you've been thinking of buying a new fitness tracker, you have a wide selection of options to choose from. Fitbit is a name you're bound to have heard of, as it's one of the top brands in the fitness industry, with more than a dozen varieties of fitness trackers and smartwatches to suit different needs.
With that number to choose from, it's not hard to see why people might become overwhelmed when choosing between them. Thankfully, there are definitely Fitbits that excel in certain areas, and as such, it's not too hard to narrow down your choice to find the best Fitbit for you. We've done a bit of the work for you here by grabbing some of the best Fitbit options around, breaking them down, and pointing out what makes them so special. Here are the best Fitbits for 2023.
Looking to widen your vision past just Fitbit? We've got lists of the best smartwatches, and the best fitness trackers too.
Fitbit Sense 2
Best Fitbit overall
Pros
Highly responsive interface
Excellent display
Rugged and highly water resistant
Advanced fitness and health tracking
Comfortable to wear
Cons
A bit pricey
Audio quality for calls isn't great
Why you should buy this: It's a great all-around smartwatch and fitness tracker from Fitbit.
Who it's for: Someone who wants a strong best-of-both-worlds approach.
Why we picked the Fitbit Sense 2:
The Fitbit Sense 2 is one of Fitbit's smartwatch options, and it is an excellent smartwatch by most metrics. It looks classy and elegant, and while the squared design means it won't pass as a normal watch, it looks good enough that you might not care. It's comfortable to wear too, and the strap-swapping system is extremely easy to use.
But the meat of any Fitbit device comes from its fitness tracking, and the Sense 2 is not lacking here. It tracks steps and heart rate, as well as your stress levels over time, helping you pinpoint your stress triggers. Also included is an ECG app, as well as comprehensive food and drink tracking too, which makes your health tracking even more accurate. It's tough and durable and came out of our strenuous test trip without a scratch. Add in a six-day battery life, and you've got a winner on your hands.
It's not perfect, however. The built-in microphone and speaker aren't great for calls, and it's certainly on the pricey side as far as these gadgets go. At this price, the Apple Watch SE is a strong competitor, and it's hard for Fitbit to match that level of support. But even with that in mind, this is an excellent device, and should be high up your list to consider.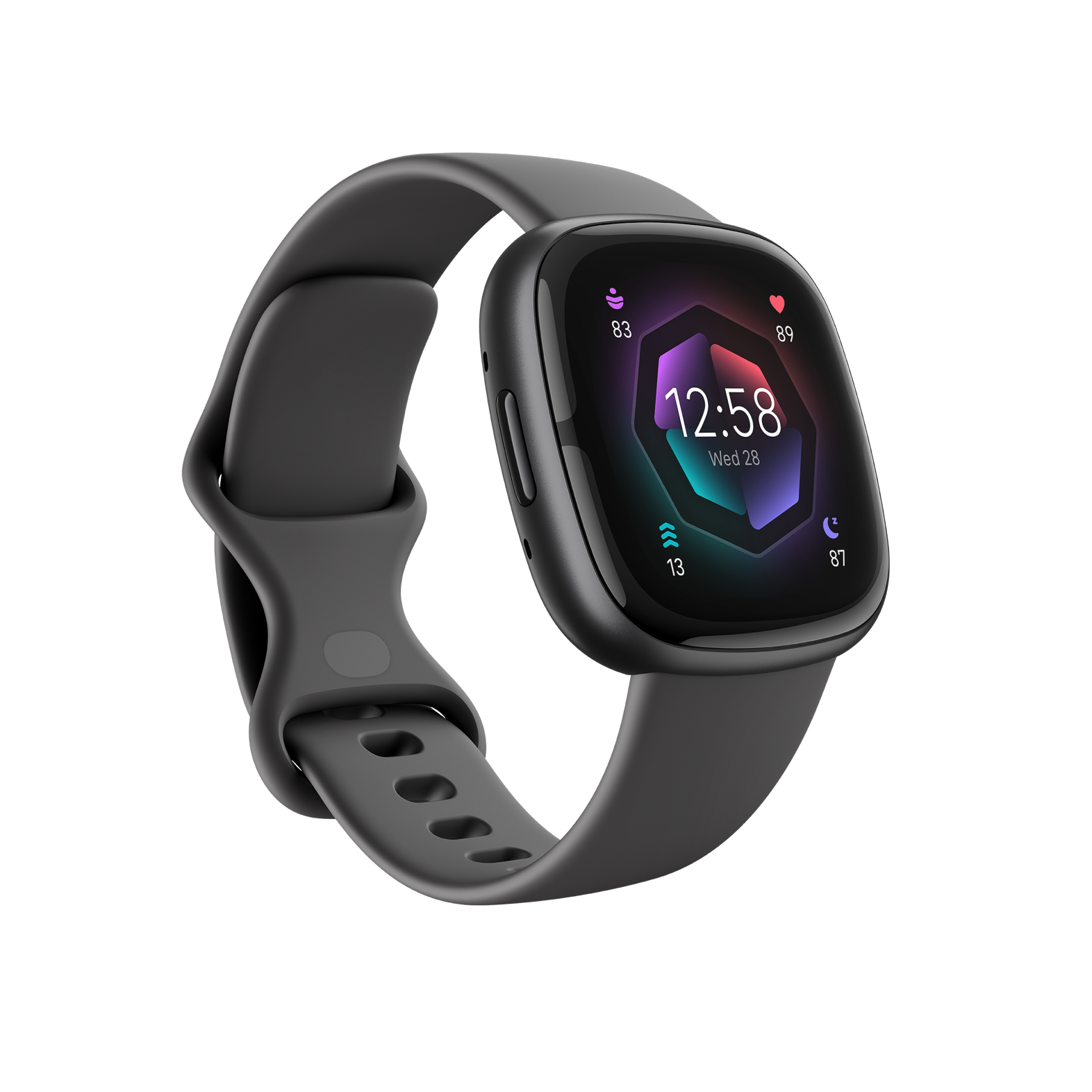 Fitbit Sense 2
Best Fitbit overall
Fitbit Versa 4
Best Fitbit runner-up
Pros
Lightweight and comfortable
Strong fitness-tracking suite
Improved side button
Six-day battery life
Why you should buy this: It's a good, if small upgrade on the excellent Versa 3.
Who it's for: Someone who wants a solid fitness smartwatch for less than the Sense 2.
Why we picked the Fitbit Versa 4:
The Versa 3 was an excellent Fitbit device, and thanks to a few small tweaks, so is the Versa 4. There's little to really differentiate the two smartwatches from each other, but given how good the Versa 3 was, we don't mind too much.
There are a few differences, and they're generally all good ones. The Fitbit Versa 4 supports 40 exercise tracking modes, doubling the Versa 3's 20, and the build is even slimmer and more lightweight than before, which is impressive. The Versa 4 has also reintroduced a mechanical button on the side, removing the Versa 3's haptic button. Since this was one of the Versa 3's few weaknesses, this is a big bonus.
The Versa 4 tracks your heart rate, blood oxygen levels, and skin temperature. It also has GPS, so it's laden with all the sensors you'll need for most exercise tracking. What it doesn't have, however, is an ECG, which you'll find in the more expensive Sense 2. However, it's easy to live without that. The Fitbit Versa 4 is a very solid smartwatch from Fitbit, and worth entertaining if the Sense 2 is just slightly out of your range.
Fitbit Versa 4
Best Fitbit runner-up
Fitbit Luxe
Best Fitbit for mental health
Pros
Minimalist design makes it discreet
Sharp looking AMOLED display
Exceptional battery life
Why you should buy this: It's discreet, but capable, and geared toward mental wellness.
Who it's for: Someone who doesn't want anything as bold as a smartwatch, but seks a good mental health tracker.
Why we picked the Fitbit Luxe:
Not everyone wants a smartwatch-style device, and the slim fitness tracker device has endured for that very reason. The Fitbit Luxe is small, lightweight, and discreet, and that means it's perfect if you're looking for something more subtle that tracks your activities. And track it does, with support for heart rate, sleep, step, and exercise tracking.
The Luxe's real focus is on mental well-being, though. A "Stress Management Score" which measures your stress levels and offers guided workouts and mindfulness meditations for stress management. It can even help you to sleep or focus better with a "me-time" mode that turns off your screen and silences notifications. It also tracks menstrual health to help you understand how periods may be affecting your well-being and moods.
It looks great, too, thanks to the gorgeous AMOLED display. It's not big, but it's colorful and punchy, and it makes information extremely easy to parse with a glance. Swiping takes you through the menus, and the life-to-wake feature was reliable as well. A battery life of up to five days is good, even if it's not up to the standard of its larger brethren.
The low cost is what really sells this device. While it may not be as feature-packed as its more expensive stablemates, it doesn't need to be, as the Fitbit Luxe thrives on its smaller footprint and bargain cost.
Fitbit Luxe
Best Fitbit for mental health
Fitbit Charge 5
Best Fitbit fitness tracker
Pros
Stylish and comfortable design
Solid battery life
Loaded with advanced health metrics
Onboard GPS with multiple modes
Supports Fitbit Pay
Cons
Sometimes slow to swipe inputs
Lacks some basic fitness/wellness tools
Some features require Fitbit Premium
Why you should buy this: Because you want a strong fitness tracker with a small footprint.
Who it's for: Anyone who wants good tracking, but in a reasonably priced and small package.
Why we picked the Fitbit Charge 5:
Like the Luxe above, the Fitbit Charge 5 is a fitness tracker model, rather than a smartwatch, and that makes it a strong choice for anyone who wants a more subtle tracking device. Unlike the Luxe, the Charge 5 specializes in fitness activities, offering 20 exercise modes, along with SmartTrack for real-time tracking. Heart health is a strong focus for this device too, as the Charge 5 has access to Fitbit's ECG for heart rhythm monitoring. You also get heart-rate change notifications, Active Zone Minute measuring, and sleep tracking for a better understanding of your health and wellness. A Daily Readiness Score lets you know if today is a good day for training, and it will even offer tips on how to improve your sleeping.
Some elements of the Luxe's mental wellness focus are present here, too. The Fitbit Charge 5 features an EDA (electrodermal activity) sensor to measure your body's response to stress, and when paired with the Fitbit app, you can access a comprehensive "Health Metrics" dashboard to assess breathing rate, skin temperature variation, blood oxygen level, and other key wellness stats. Some of these are locked behind a Fitbit Premium subscription, but that's always the case with Fitbit's devices. The battery lasts about a week, with our reviewer seeing battery life of over five days, which isn't bad at all.
A solid and extremely good fitness tracker, the Fitbit Charge 5 is an excellent choice if you want a fitness tracker that won't break the bank or weigh down your wrist.
Fitbit Charge 5
Best Fitbit fitness tracker
Fitbit Versa 2
Best cheap Fitbit smartwatch
Pros
Affordable
Multi-day battery life
Native sleep tracking
On-device music storage
Intuitive interface
Cons
Offers few insights (without paying extra)
Can't stream from Spotify
Looks like an Apple Watch knock-off
Alexa is largely useless
Why you should buy this: It's older than most other entries on this list, but it's still very capable and well-priced.
Who it's for: Someone who wants a Fitbit smartwatch for a very good price.
Why we picked the Fitbit Versa 2:
It's far from the most recent addition to the Fitbit family, but the Versa 2 is still a worthy choice if you're looking for a Fitbit smartwatch that doesn't blow your budget, but still lets you smash your personal bests. It looks great, largely because it was one of the first smartwatches to really ape the Apple Watch's excellent style, though the included band leaves a lot to be desired. However, the AMOLED screen makes up for that as it looks amazing. It's an always-on screen — which was not a standard feature when this originally came out.
Fitness tracking isn't as comprehensive as more recent trackers, but it's still good. It tracks seven modes (across running, cycling, swimming, treadmill running, and weight training), and counts steps, heart rate, and calories. Some of the activity breakdowns on the watch are a little sparse, especially the sleep tracking, but there's more data available on your watch if you need it. The battery life lasts around three days, which is about half of what you might expect from another Fitbit device.
Still, even with those downsides, there's a reason to buy this: the price. It's generally heavily discounted, so it's a good way of getting a Fitbit on a budget. But if you can afford it, we highly recommend going for something more recent.
Fitbit Versa 2
Best cheap Fitbit smartwatch
Fitbit Inspire 3
Best cheap Fitbit fitness tracker
Pros
Lightweight
Very comfortable
Accurate fitness sensors
Battery lasts over a week without a recharge
Affordable price point
Cons
Lacks an altimeter
Charger is tricky to disconnect
Why you should buy this: It's an excellent "put it on and forget it" fitness tracker, at an amazing price.
Who it's for: Someone who doesn't like to be reminded they're wearing a tracker, and wants one at a great price.
Why we picked the Fitbit Inspire 3:
The Fitbit Inspire 3 is a great cheap fitness tracker, but that's not what makes it amazing. Instead, it's one of the most subtle, discreet trackers you'll come across. It shines as a device you can forget about for long periods of time, thanks to its light and comfortable build and 10-day battery life. Yes, 10 days. Combine that with an AMOLED display that's bright and colorful, and you have a real winner.
Fitness tracking doesn't let it down, thankfully. The heart rate tracker is reliable and accurate, and so is sleep tracking. There's no altimeter, which may disappoint the hikers among us, but there's a relaxation mode that can help you get over that, and it's great when you're feeling a little stressed.
The Fitbit Inspire 3 is a simple device, but that's what makes it so good. There's little here to obsess on — you simply put it on and forget about it. Best of all, the rock-bottom price means it's a tempting device.
Fitbit Inspire 3
Best cheap Fitbit fitness tracker
Frequently Asked Questions
What's the best Fitbit for me?
How can you find the best Fitbit for you? It all comes down to your needs. Ask yourself the following questions to find a suitable Fitbit device for your needs.
What do I need from a fitness tracker?
Which features are the most important to me?
Which features are good-to-have, but can be sacrificed to save money?
How do I plan to use this device? Do I need a waterproof model for swimming?
What's my budget for a new fitness tracker?
Once you understand your needs, it becomes easier to compare different Fitbit models and find which one best suits your preferences. While top-end Fitbits tend to excel in a number of areas, sometimes there's no reason to pay top dollar if a lower-priced option gives you everything you need.
At the end of the day, your choice of Fitbit depends on what you need from a fitness tracker. If you feel stuck, revisit the questions below to understand which features you need, which ones are good to have, and which ones you don't care about at this time. Hopefully, this will help you to find the best Fitbit device for you.
What are the best Fitbit features for workouts?
If you are a runner or exercise often, there are some features you'll want to keep an eye out for. These apply whether you're a professional athlete with years of experience behind you, or a complete newbie still aiming for their first mile.
GPS (for mapping your route).
Music player/streaming.
Step and distance tracking.
Beyond these basics, here are some extra features that make workouts more effective and fun:
SmartTrack: With SmartTrack, your Fitbit can automatically identify and record your workouts, and track your stats, like workout duration, calories burned, and heart rate zones. This feature is super helpful for users who don't remember to start tracking, or switch between tracking modes when exercising.

Oxygen Saturation (SpO2) monitoring: This feature monitors the level of oxygen in your blood, which can add nuance to your workout stats, and detect any respiratory issues.

Active Zone Minutes (AZM): AZM tracking helps you understand how you are moving, how often, and how intensely. This is great if you want to meet specific activity goals, like having a certain number of active minutes per day.
What are the best Fitbit features for mental health?
While Fitbit devices are most commonly used for fitness tracking, the latest versions have started offering more lifestyle-oriented features for stress management and improving overall well-being.
If you're in the market for a Fitbit device to help you manage anxiety and stress, here are some mental health-focused features to look out for:
Stress monitoring: Some Fitbit devices measure stress through electrodermal activity (EDA), heart rate variability, and sleep monitoring. These features are key for busy individuals who frequently work in fast-paced environments.
Guided meditations: Having guided meditations at hand (literally) goes well with stress-monitoring features. Whenever you see your stress score go up, simply check out a meditation or two for relief on the go.
Music: For many people, music is a huge part of managing their mental health. If this is you, having a robust music player or online streaming on your Fitbit device can really help.
What are the best Fitbit features for casual use?
If you want to use a Fitbit device casually, look for options offering decent features at an affordable price.
Some features to look out for include:
Step counting
Workout tracking
Sleep monitoring
Heart rate monitoring
Music functions
Smartphone notifications
Water-resistance
Decent battery life
Other semi-advanced "good-to-have" features include:
On-screen workouts
Guided meditations
Stress score
Music storage
Voice assistant
Editors' Recommendations