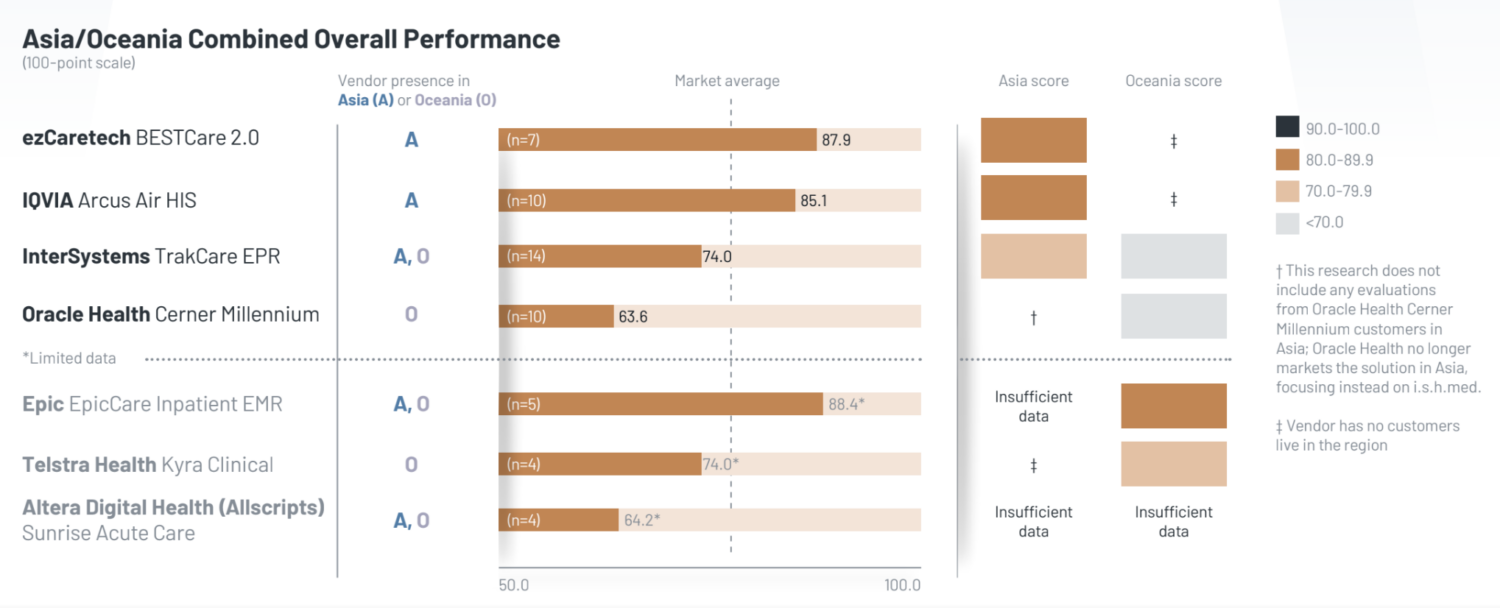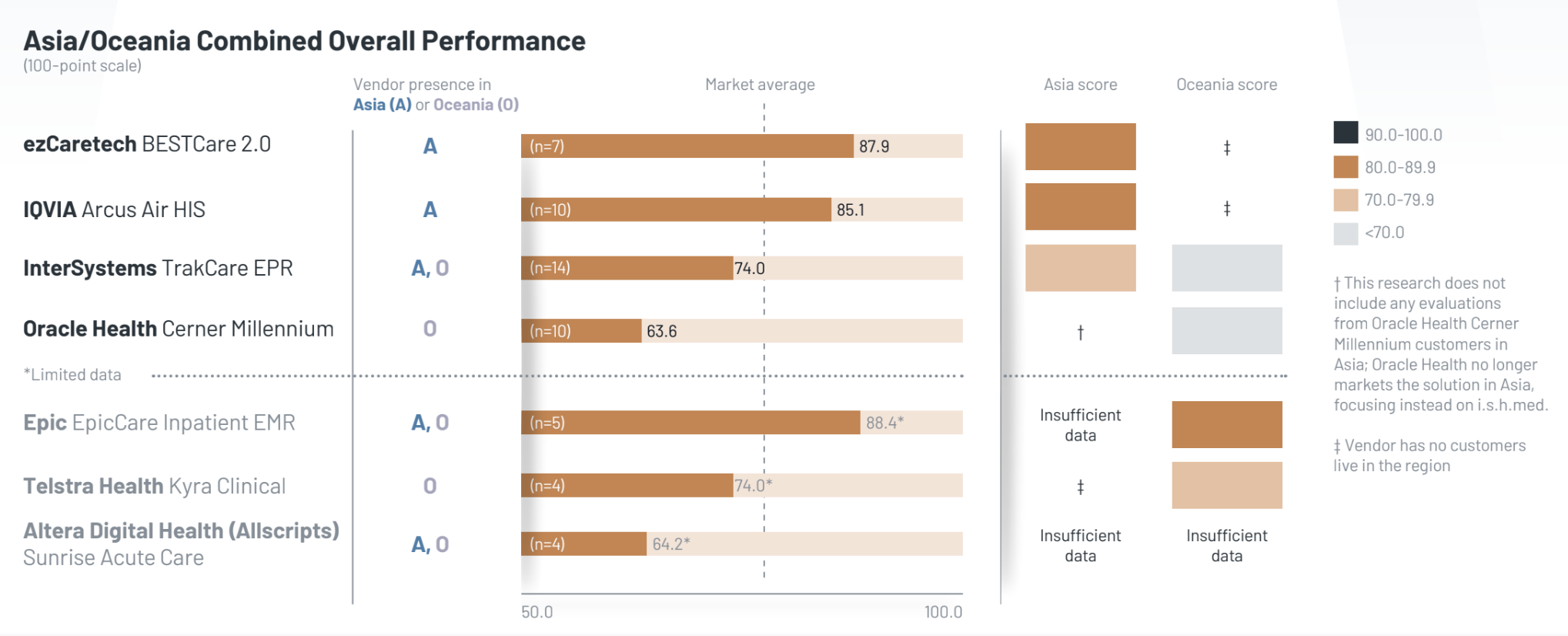 What You Should Know:
– As healthcare organizations have come out of the peak of the COVID-19 pandemic, EMR purchase decisions in Asia have ramped up. In Oceania, most public hospitals have an EMR in place, but purchase energy remains high since many public and private provider organizations are planning large-scale purchases of go-forward EMRs.
– This report—KLAS' first focused exclusively on Asia and Oceania—highlights (1) market share and vendor energy in recent EMR purchase decisions and (2) vendor performance in each region based on client feedback and experience.
Understanding and Analyzing The State of EMRs in Asia/Oceania
Each year, KLAS interviews thousands of healthcare professionals about the IT solutions and services their organizations use. For this report, interviews were conducted over the last 12 months using KLAS' standard quantitative evaluation for healthcare software, which is composed of 16 numeric ratings questions and 4 yes/no questions, all weighted equally. Combined, the ratings for these questions make up the overall performance score, which is measured on a 100-point scale. The questions are organized into six customer experience pillars—culture, loyalty, operations, product, relationship, and value.
The key insights obtained from the report are listed and explained as follows:
IQVIA Growing Fast in Asia, with Improved Support & Delivery in South and Southeast Asia:
IQVIA has one of the broadest market footprints in Asia. Customers span six countries in Southeast Asia and are also found in India and Sri Lanka. The customer base for IQVIA's go-forward Arcus Air platform (acquired from Incarnus Technologies in 2019) has more than tripled in the last five years, with 19 organizations selecting it. The hosted cloud version has been adopted by customers in Cambodia, India, and Thailand. Support has improved since the acquisition, even through the pandemic. Clients describe strong partnership from IQVIA and say their representatives know the customer organization well and respond quickly. A recent product upgrade has led to some reports of system slowness, hurting client satisfaction slightly.
ezCaretech a Strong Performer in South Korea, Slow to Expand to Other Countries
ezCaretech has a significant presence in South Korea, where they are headquartered and where they have steadily grown in the last five years. They have the highest overall score of measured vendors in Asia, and clients—especially large academic hospitals, where the solution is widely used—report good development of BESTCare. Customers describe BESTCare as a high-quality solution with robust functionality and solid integration. Some want ezCaretech to provide faster development and better training. Recent employee turnover has resulted in slower responsiveness. ezCaretech's new offering, EDGE&NEXT, is a smaller, cloud-based solution that has been adopted by some smaller hospitals in South Korea. ezCaretech was also selected by a hospital in Japan, their first Asia client outside South Korea.
InterSystems Delivers Solid Performance to Broad Customer Base:
InterSystems has clients (mostly private hospital groups) across five different Asian countries and has the largest market presence in the region among the multiregional vendors KLAS monitors. The highly configurable TrakCare product generally meets expectations and is working well for clients in multiple countries. Respondents describe good relationships with InterSystems' executives, strong support, and smooth implementations. Customers would like to see more proactive outreach from InterSystems in terms of adapting to local requirements, rather than reacting when clients initiate conversations. Clients also want more proactive communication about available training resources and newly released features; on a related note, clients feel usability for tools like CPOE could be improved.
Oracle Health (Cerner) Has the Largest Existing Market Share in Oceania, Lowest Customer Satisfaction:
Oracle Health, who acquired Cerner in June 2022, currently has the largest presence of any EMR vendor in Oceania, with several large, longstanding government contracts, including in New South Wales, Queensland, and Victoria. Over 200 hospitals have digitized various clinician and departmental workflows through the use of Oracle Health. However, in November 2022, New South Wales Health announced their selection of Epic for their Single Digital Patient Record program. In terms of the Oracle Health client experience, customers are increasingly frustrated, and customer satisfaction in the region is currently at the lowest point KLAS has measured. Respondents note that significant turnover has hurt support and customer relationships, and clients say they are left with inexperienced personnel and poor problem resolution. Hospitals that have retained the same vendor representatives report higher satisfaction and smoother experiences. The product itself generally meets customers' needs and is a strength for Oracle Health. However, the slower pace of development has led to unmet promises for specific functionality. Customers are divided on their outlook following the acquisition: some are hopeful for technology improvements, while others are less optimistic and expect turnover issues to continue.
Epic (Limited Data) Stands Out for Relationships in Australia:
At the time this research concluded, four organizations were live with Epic in Oceania (all in Melbourne, Australia), and all have achieved HIMSS Level 6; a fifth customer went live in late 2022. The three interviewed Epic clients report consistently high satisfaction, highlighting Epic's strong partnership through the implementation and after go-live. Respondents appreciate Epic's proactivity and strategic engagement when it comes to broad change management. Customers do feel training and product usability could improve.
Renewed Customer Focus from InterSystems & Telstra Have Led to Improvements:
Following some challenges in Oceania, InterSystems restructured their team prior to the pandemic to better support the Australian market. Those efforts have helped some struggling clients make improvements and successfully go live. Today, customers remain somewhat dissatisfied with InterSystems: several upgrades (from heavily customized environments to InterSystems' country- specific editions) had significant delays and challenges that were exacerbated by stretched resources and insufficient training. Going forward, most clients plan to stick with InterSystems, feeling that things will continue to improve. They cite enhancements like a long- awaited interface revamp (part of a new upgrade) aimed at better mobile device support.
KLAS does not have historical performance data on Telstra Health, but recently interviewed customers consistently note that while they struggled during implementation and in the early stages of using the product (five or more years ago), the vendor has recently made significant improvements to product stability and the user interface. Customers can deploy the solution in most departments and do most documentation electronically, though some still use paper forms or a third party for ePrescribing. Respondents feel Telstra Health has recommitted themselves to focusing on customer relationships and proactive service. Customers want Telstra to continue making positive strides in areas like integration and development.
The report also had combined insights regarding Altera Digital Health for Asia and Oceania:
Altera Digital Health (formerly Allscripts) has a few clients using Sunrise Acute Care in Asia and Oceania, but KLAS was unable to interview enough unique clients for the vendor to be rated in the individual regions; this report shares their aggregate performance across both regions. Altera is used by a large number of hospitals in South Australia and by a few clients in Singapore and Guam; one organization in the Philippines is implementing.
Customer satisfaction with the solution is at its lowest level since KLAS started measuring it in 2015. Most customers plan to stay because of the effort required to get the solution to its current state, but few would buy it again. Clients' chief complaints are slow development, inexperienced staff, poor relationships, and unkept promises. It is too soon to tell the impact of the Harris Healthcare acquisition.