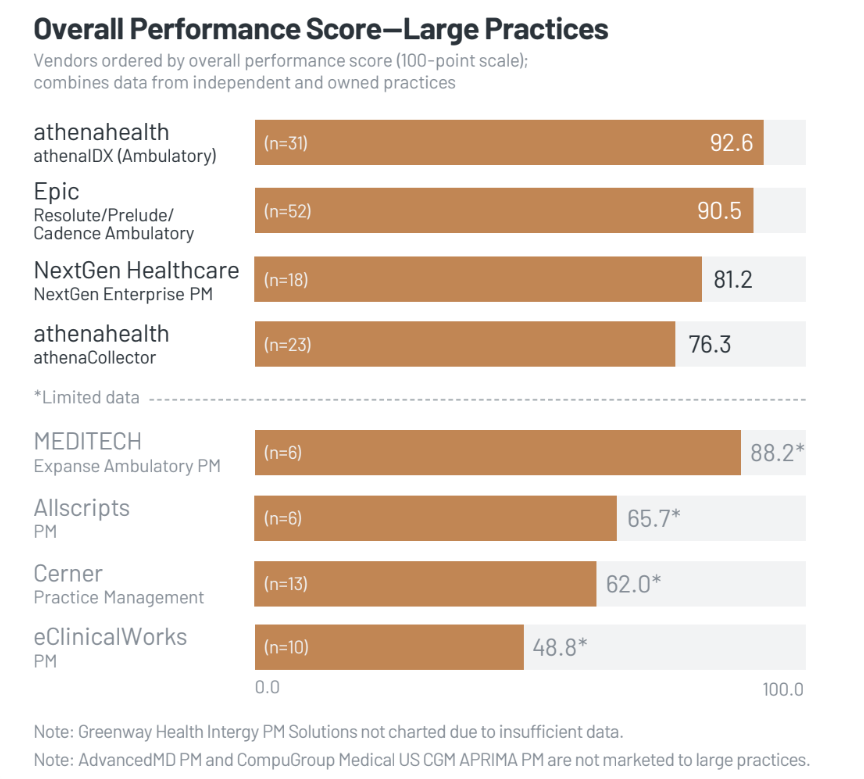 What You Should Know:
– Most practice management (PM) solutions have a long tenure in the market, yet not all vendors successfully meet practices' needs—which include strong technology and a vendor who acts as a partner in customer success. Historically, KLAS has split PM data by midsize (11–75 physicians) and large practices (76+ physicians); however, independent practices (clinics not owned by a hospital/health system) and owned practices (clinics owned by a hospital/health system) also have different needs and gravitate toward different vendors.
– Due to this trend, the latest report from KLAS examines which PM vendors best deliver to customers' expectations for midsize and large practices as well as for independent and owned practices.
Analysing Which Vendors Stand Out in an Established Market
Each year, KLAS interviews thousands of healthcare professionals about the IT solutions and services their organizations use. For this report, interviews were conducted over the last 12 months using KLAS' standard quantitative evaluation for healthcare software, which is composed of 16 numeric ratings questions and 4 yes/no questions, all weighted equally. Combined, the ratings for these questions make up the overall performance score, which is measured on a 100-point scale. The questions are organized into six customer experience pillars—culture, loyalty, operations, product, relationship, and value.
Key insights are listed and explained as follows:
athenahealth athenaIDX (Ambulatory), Epic, NextGen Healthcare Perform Well for Large Practices; Cerner & eClinicalWorks Need Improvement
athenahealth athenaIDX is highly stable for large practices, who note post-acquisition updates have enhanced the user experience. Respondents feel the vendor is a proactive, supportive partner that can quickly solve issues. Nearly all large practices using Epic would recommend the solution to peers, highlighting strong technology and constant upgrades. Thorough training ensures users can work efficiently after the initial learning curve and—along with the functionality—drives tangible benefits for customers. NextGen Healthcare's solution performs well due to flexible EMR/PM software that successfully handles complex multispecialty environments.
Large practices appreciate the robust reporting and scheduling and report improved support and executive involvement in recent years. MEDITECH's product (limited data) works as sold for large practices. Its functionality and high stability drive tangible financial results, and respondents feel their satisfaction will continue to grow as the product matures. Cerner's functionality falls short of large practices' expectations; respondents note the PM solution can't provide everything it should without additional third-party software, leading to increased costs. Large-practice customers of eClinicalWorks (limited data) report many problems, the biggest being support resources that are unable or unwilling to give assistance.
Midsize Practices Most Satisfied with athenahealth athenaCollector & NextGen Healthcare
With similar overall performance scores, athenahealth and NextGen Healthcare offer the highest-rated experience for midsize practices. athenahealth athenaCollector is combined with the EMR and RCM services, enabling customers to reduce or better utilize FTEs. Additionally, robust, cloud-based technology can be updated without disrupting workflows. Compared to other metrics, support is an area of weakness, with some respondents citing long resolution times and difficulty contacting knowledgeable representatives. NextGen Healthcare customers feel the vendor delivers a product that meets (and often exceeds) expectations and functionality requirements. Midsize practices also report better vendor relationships and partnerships than in years past. Nickel-and-diming remains a pain point for some and keeps satisfaction from being higher than it otherwise might be.
NextGen Healthcare Offers Consistent Product Experience; athenahealth athenaCollector Has Most of Needed Functionality
NextGen Healthcare's solution is generally seen as solid by independent practices of all sizes, who cite it is easy to learn, customizable, and streamlined. Respondents also note the updates keep them current with new regulations and bring new functionality that helps them efficiently run their practices. Cloud-based athenahealth athenaCollector is packaged as part of their broader platform, and independent practices feel its transparency enables them to better understand what is happening in their revenue cycle operations. They appreciate the rules engine and uptime and note that updates and fixes happen invisibly with little to no negative impact on users. Customers of CompuGroup Medical US (limited data) report that the solution is in a stable state and that updates have increased usability and transparency into billing operations.
NextGen Healthcare & athenahealth athenaCollector Drive Value through Outcomes; eClinicalWorks Misses the Mark for Large Independent Practices
Independent practices using NextGen Healthcare most often report seeing tangible outcomes. Respondents view the solution as cost-effective and appreciate its flexibility, which allows them to pivot when necessary (e.g., scheduling COVID-19 vaccines). Further, data flows smoothly between the EMR and PM pieces, enabling practices to operate more efficiently. Independent practices of all sizes appreciate athenahealth's shared-risk model and that the athenaCollector solution and services handle most RCM work, citing that the technology is better than products used in the past. In general, midsize practices using athenahealth report slightly better financial outcomes than large practices—who more often purchase add-ons, leading them to feel nickel-and-dimed. eClinicalWorks respondents report the lowest satisfaction with outcomes. Large independent practices are particularly dissatisfied due to feeling the product's capabilities were oversold and don't work as they should; these customers also note that they can't integrate with key third-party revenue cycle components.
athenahealth athenaIDX (Ambulatory) and Epic Drive Consistent Customer Satisfaction; Cerner Customers Wait for Vendor to Deliver
athenahealth athenaIDX customers' satisfaction and confidence in the product have significantly increased post-acquisition due to updated technology and improved vendor relationships. The percentage of respondents who would buy the solution again has also risen by 25% as it helps them effectively drive tangible results. Owned and independent customers of Epic have had high satisfaction for years, citing strong technology that supports repeatable outcomes. Epic's representatives proactively address issues and changes and keep customers' best interests in mind—leading over 90% of respondents to feel Epic keeps all promises. Limited data from independent practices using Epic shows they have higher-quality vendor relationships than owned practices.